Garden maintenance
Your green oasis in good hands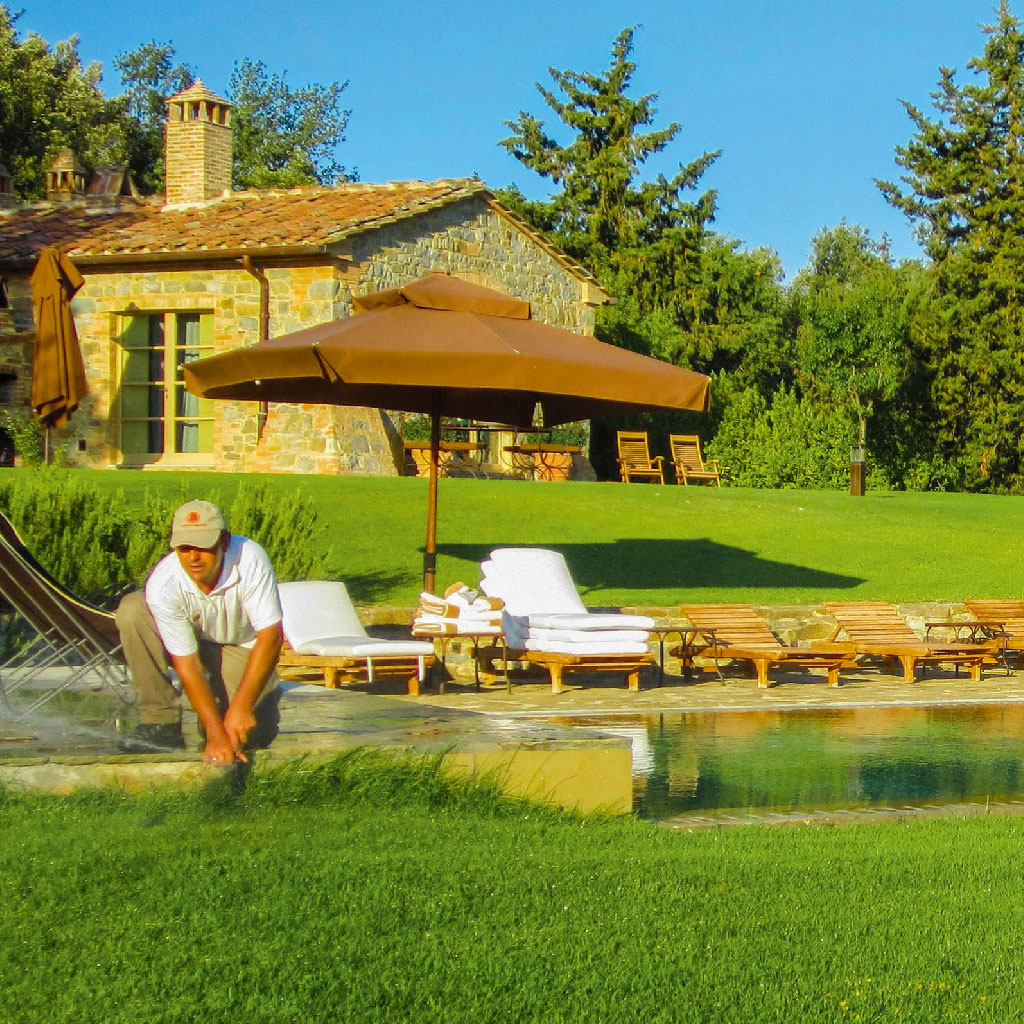 Professional garden maintenance
Giardini MATI 1909 offers private and company green-space maintenance, whether for terraces, small gardens, or large parks, in any environment and climate in Tuscany, e.g., along the Mediterranean coasts in Italy and abroad, in the Apennine Mountains, on the islands, or anywhere there is a green space that requires professionalism and efficiency to be maintained in all its beauty.
Ecosystem-friendly
Mistakes due to incompetence can ruin a garden's balanced ecosystem and be very expensive. This is why using untrained non-professional gardeners is not recommended as they are not familiar with the plants and their needs or, worse, mistake the seasonal plants along with the approach to and frequency of gardening activities and green maintenance. They can misuse fertilizers and pesticides or get the number and starting times of fertilizer treatments wrong.
Knowing each plant's needs
Planting and matching plants can also be problematic.  A common sight is to see either non-viable specimens or those stressed from being planted too close together in a small area, at the wrong depth for their type of root system, or in unsuitable positions because of weather exposure or soil type.
Avoiding damage from improper pruning
Pruning and tree management are a separate discussion. As also in the case of mowing, cutting errors here can end up as criteria for an overly drastic action, leading to a disastrous pollarding that is difficult to remedy.
4 generations of experience and 111 years in the nursery business
At MATI 1909, we've worked with plants for 4 generations, relying on our 111 years of nursery experience. We work exclusively with highly trained teams of agronomists, professional gardeners, and skilled technicians to offer scheduled routine maintenance or on request. 
References
The more noteworthy of the many green works we've created and/or maintain include the Antinori Winery in Bargino and the Castiglion del Bosco Hotel & Resort in Montalcino, in Tuscany; the Abercrombie & Fitch office in Paris; and the Peggy Guggenheim Museum in Venice.
Contact our experts regarding professional maintenance services for your garden:
Our greenery maintenance services: